Fake Magnolia Ice Creams & The Real Story of the Famous Magnolia Ice Cream House
If you've been alive since the '70s and you live in or have been to the Philippines, you've probably heard about Magnolia ice cream and The Magnolia Ice Cream House. Would you like to know its history? Read on!
♣ The Magnolia Ice Cream Brand and its Well-Known Aurora Boulevard Ice Cream Parlor ♣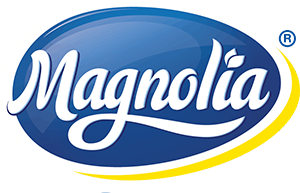 ➡ In 1899, American US Army cook, William J. Schober arrived in the Philippines.
Wikipedia says it all started because of him. (I can't really find a direct source of the history online, I assume the only remaining written history on the web is based on the now missing SINAG-CSSP online article.) After the Philippine-American War, he stayed and introduced his "magnolia pie, ice cream and ice drop."
➡ In 1925, he eventually sold his ice cream idea/business to the then San Miguel Brewery company.
From there it became the Magnolia ice cream and brand owned by Magnolia, Inc., a food and beverage subsidiary of what we currently know as San Miguel Corporation (SMC).

(The latter is a "Filipino multinational publicly listed conglomerate holding company".)
➡ In 1970, Magnolia, Inc. had completed its then newest ice cream and dairy facility along Aurora Boulevard in New Manila, Quezon City.
It was where they also started offering ice cream desserts from the main branch of Magnolia ice cream parlor. It became really popular from then on. Meanwhile in the US, a Filipino family decided to use the same Magnolia frozen dessert logo as branding for their own products in California.
---
---
♦ The Brand/Logo Infringement Issue ♦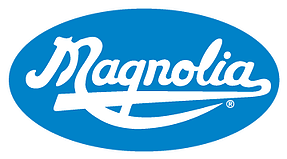 If you're from California, USA you might be familiar with Magnolia ice cream from the US based but Filipino established company called Ramar Foods International. It was founded in 1969 by the Quesada family and they used almost the same Magnolia logo of SMC's Magnolia brand.
As an artist it pains me to see how there were people back then (and even now) who disregard exclusive trademark and logo usage. They even filed for a US trademark application! I guess logo copyrights weren't a thing even back in the '90s?
It's a Filipino American company and yet they ripped off the logo of a big ice cream brand from their home country. Must be their way of easing nostalgia? 😆 Oh but no, it's all about the money I'm sure. They're capitalizing on an already well known and established ice cream/dairy brand in the PH to appeal to the Filipino Americans in the US and then claiming the brand and logo as their own. Plus they prevented the PH brand from selling in the US. Wow.
Anyway there was a dispute case in the US where SMC won. There's also a video of the case argument in April 2015. Wow. If you want to watch it and hear a lot of lawyer lingo, search "13-55537 San Miguel Pure Foods Co. v. Ramar Int'l Corp." on YouTube.
In the September 2015 Philippine Star news article, it states:
"The Court further acknowledged that Ramar's president himself admitted on record that his company originally adopted the Magnolia trademark to 'leverage the existing strength of San Miguel's Magnolia brand' to promote its sales of Filipino-style ice cream in the US," San Miguel said in its disclosure.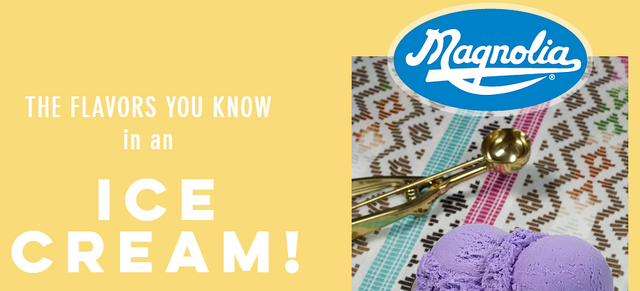 screen cap from the Ramar Foods Magnolia US site
No wonder I got confused when I was researching Magnolia ice cream. SMC or
San Miguel Pure Foods (SMPF)
has no website for the Magnolia brand so I found the US Ramar Foods Magnolia site and Facebook page instead. Huh. Good thing I did some deeper research.
Let this case be a lesson to not bring any branded products overseas and claim the brand as our own. Even if anyone has millions of money to pay for lawyers and endure long case proceedings, we should strive to have our own logo branding. Better not copy/steal any existing company's logo (or artwork!) so there won't be any legal or infringement problems moving forward. Let's be respectful of other people's brands, logos or artwork and build our own brands from scratch.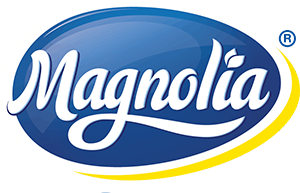 ---
---
Anyway, because of the Magnolia Ice Cream House along Aurora Boulevard, QC, the place and the brand became really well known from the '70s to the '90s. Many people would go there not only to enjoy ice cream treats but also for student field trips. The schools and the establishment provided the opportunity for students to visit the ice cream factory and be amazed at how ice cream and other dairy products were made.
Families, couples, friends and kids would hang out the parlor while treating themselves to all the banana splits, parfaits, sundaes, pinipig crunch, popsicles, ice cream sandwiches and others they could munch on.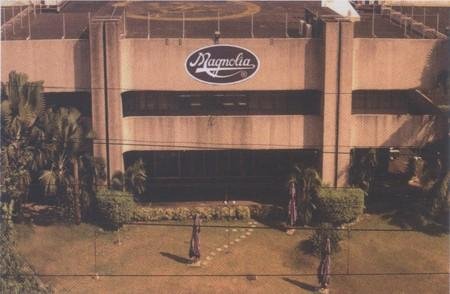 CTTO
➡ In 1996, a joint venture happened with Nestlé Philippines Inc.thus Magnolia-Nestle Corp. was created. The Magnolia ice cream brand was transferred to them from Magnolia, Inc.
➡ In 1998, SMC withdrew from the venture.
➡ In 2004, SMPF relaunched the Magnolia ice cream brand after the non-compete clause with Nestle expired.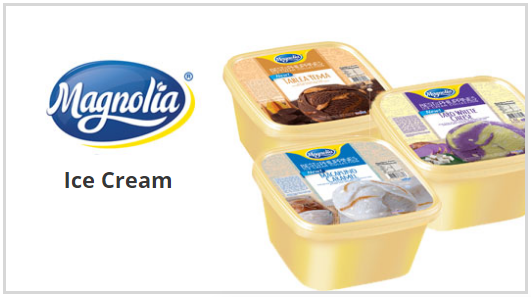 Screen cap from SMC website
This left the Aurora Blvd. plant and ice cream parlor under Nestle Philippines.
➡ In 2006, they launched and renamed the famous place into Nestlé Creamery.
➡ In December 2008, San Miguel Properties Inc. sold the 5.22 hectare lot to Robinsons Land Corporation (RLC, a subsidiary of JG Summit Holdings, Inc.).
➡ In 2010, a new Magnolia ice cream facility was inaugurated at Sta. Rosa, Laguna.
➡ In August 2012, the Robinsons Magnolia Mall was opened to the public.
➡ In October 2012, the mall housed a new Magnolia ice cream parlor called Magnolia Flavor House as homage to the famous Magnolia Ice Cream House and brand.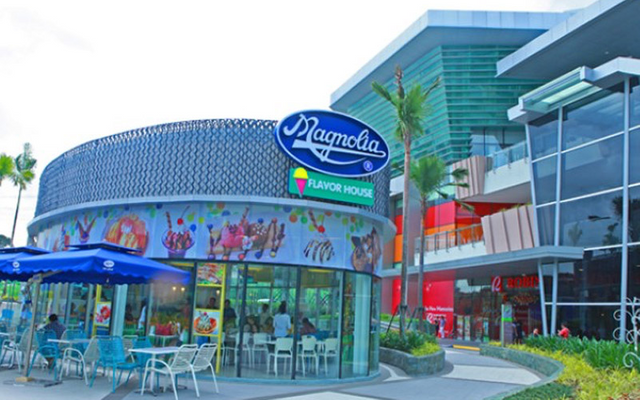 Source
Look at all the delicious ice cream dessert they offered!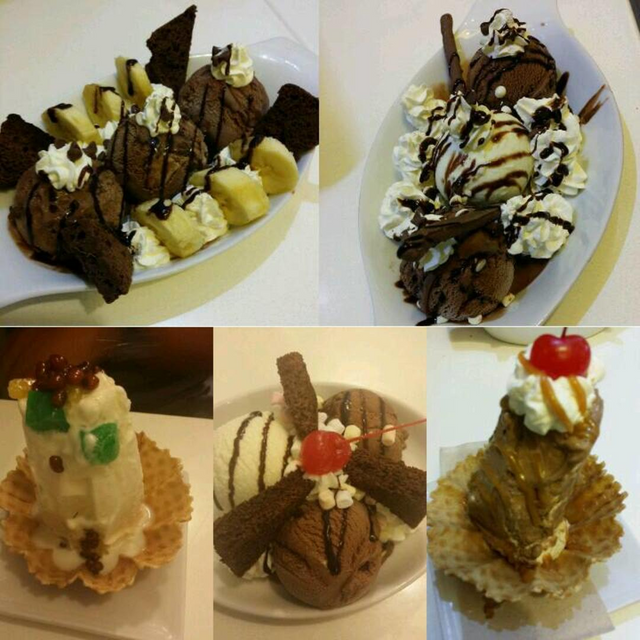 Source
➡ In 2017, the Magnolia ice cream diner closed.
Oh how sad I won't have the opportunity to try any of their ice cream desserts ever. huhu. Sure I could buy some of their ice cream but the opportunity to experience eating there and being served these is gone forever.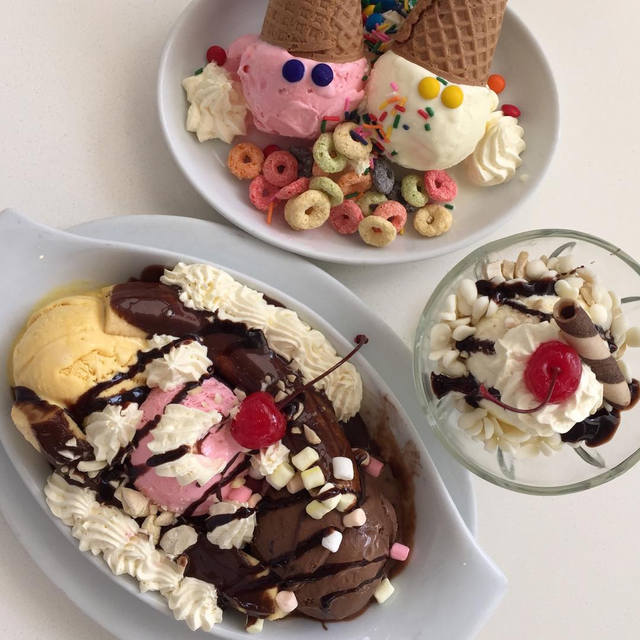 Source
➡ At present, nothing else is there to remind us of the Magnolia Ice Cream House except the Magnolia Town Center.
It is composed of The Summit Hotel Magnolia, a future Cyberscape Magnolia office building, the spacious and upscale Robinsons Magnolia mall and The Magnolia Residences.
♣ The Magnolia Residences ♣
Just beside the 32nd mall opened by RLC, The Magnolia Residences Towers A, B & C were built to be the modern city homes of many nostalgic Filipinos and also foreigners/investors in the area.
You can see it anytime if you ride the LRT-2 going to and from Manila or when you pass along Aurora Boulevard and other streets nearby. The residential condos are not visible if you go inside the mall unless you go to the outdoor areas. It's actually a great place to live and invest in because of its strategic location. I can help you own a unit/s if you're interested. 😉
By the way, wanna see what the inside of the mall looks like? Check it out!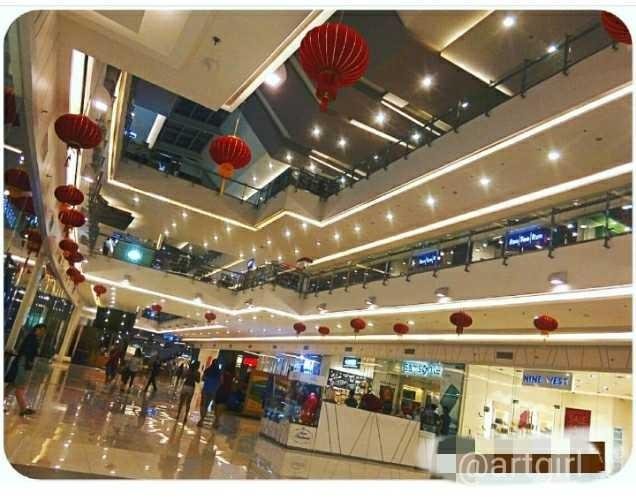 Isn't it shiny and bright? I just love Robinsons Magnolia. Haha. This is a photo I took back in Jan 2017, the first time I went in it. 😊
By the way, currently the condominium units at Towers A to C are mostly sold out. The few available ones are already reserved. Tower D is already pre-selling since 2018 and will be 37 storeys high (without 13th flr so technically it's 36 storeys 😂).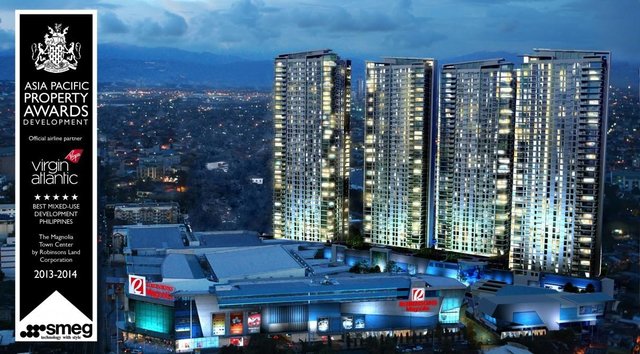 The Magnolia Residences is a 4 tower mixed-use development offering the comforts of home, mixed with a tinge of nostalgia in the heart of Quezon City. Featuring a wide array of amenities from swimming pools to badminton courts and zen gardens, Magnolia caters to every lifestyle. What's more, the project is located alongside the Robinsons Magnolia mall, offering every shopping and dining need right at your fingertips.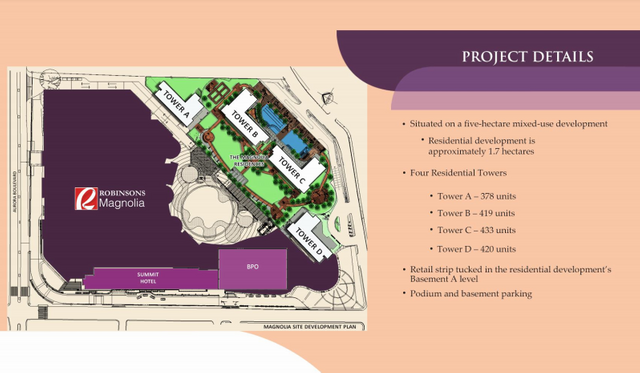 It's near several prestigious schools, top hospitals, work places and an LRT-2 train station too. Plus it's just beside a big mall so where else would you prefer to live in Metro Manila?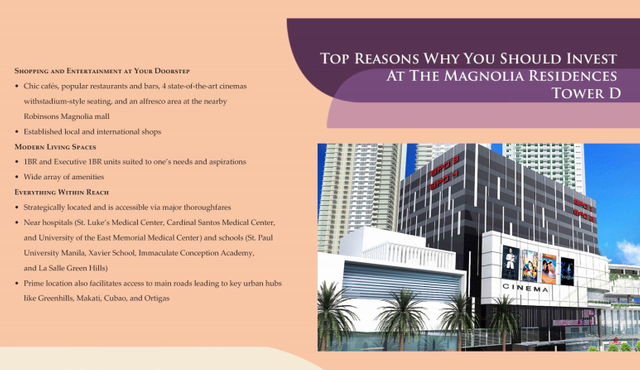 Other Nearby Shopping Centers:
Gateway Mall

Greenhills Shopping Center

Fisher Mall
Some Notably Accessible Places :
Minor Basilica of the National Shrine of Our Lady of Mt. Carmel

Wisdom Park

Camp Crame

Quezon City Sports Club

GMA Network Center

Wack Wack Golf & Country Club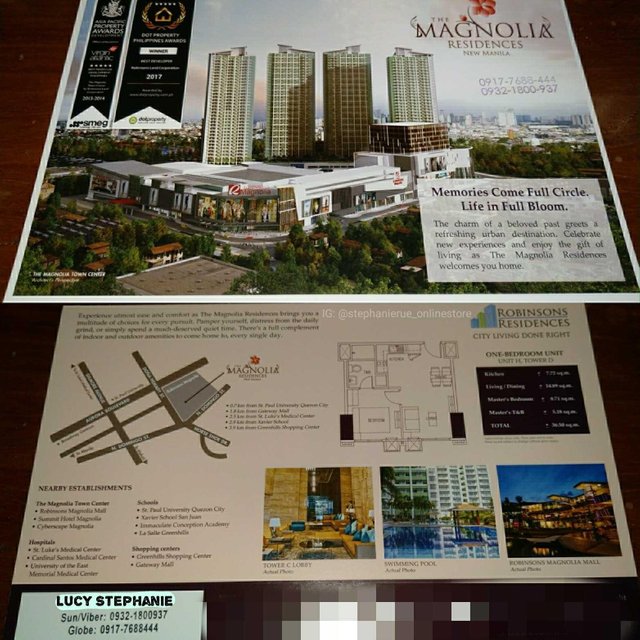 Experience the ease of transportation as it is also beside major thoroughfares. You can easily get there by private vehicles or public transportation like the LRT-2 trains via Gilmore station, taxis and jeepneys.
And guess what else? It is around 4 km away from the West Valley fault line! Far enough, right?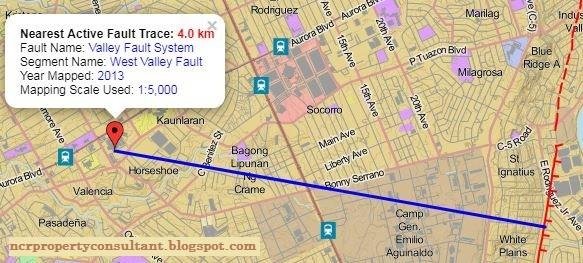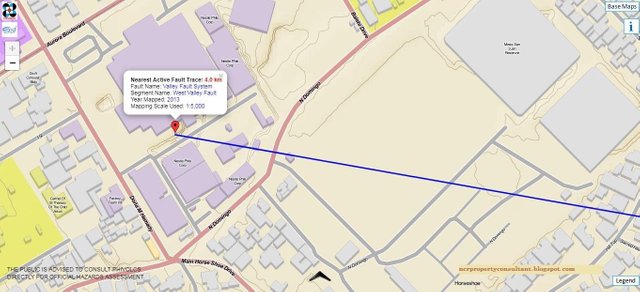 Source
The Magnolia Residences is a flood free area too. What's not to like? 😉 Even nurses and doctors can easily live or invest here because of the proximity to hospitals.
Available pre-selling one bedroom units here are the best place to live or invest in. You can buy it for your child's future home away from home. Or use it as a city staycation home, make it a source of rental income or resell it. It's all up to you how you'd enjoy living in or earning from this nostalgic area.
The Magnolia Residences TOWER D DETAILS:
➡️

Size Range:
1 bedroom (BR): 34.50 sqm to 48 sqm
Executive 1 BR: 49 sqm to 58 sqm
💵

Reservation fee:

P50,000 ($966)
💰

Price Range:
1 BR: P5.8M to P7.5M ($111,457 to $145,695)
Executive 1 BR: P8.4 to P9.5M ($164,381 to $183,016)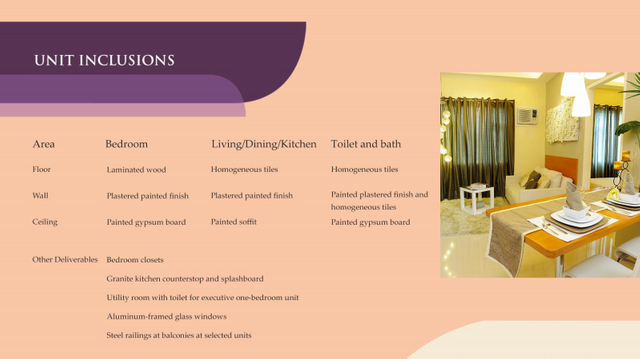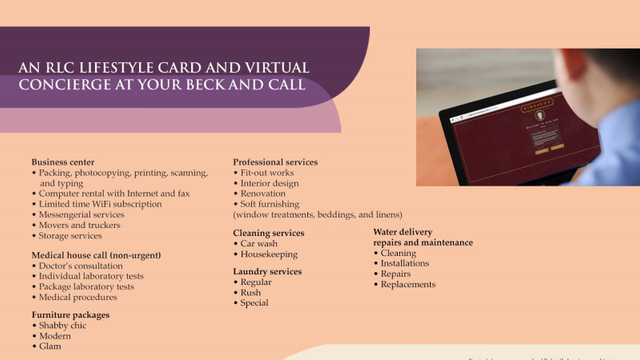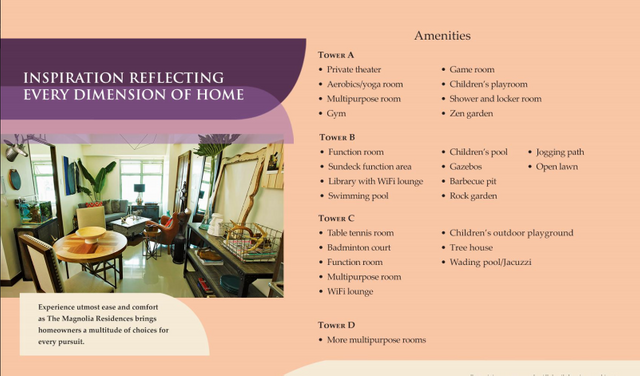 Click here to reach me on Facebook. 😆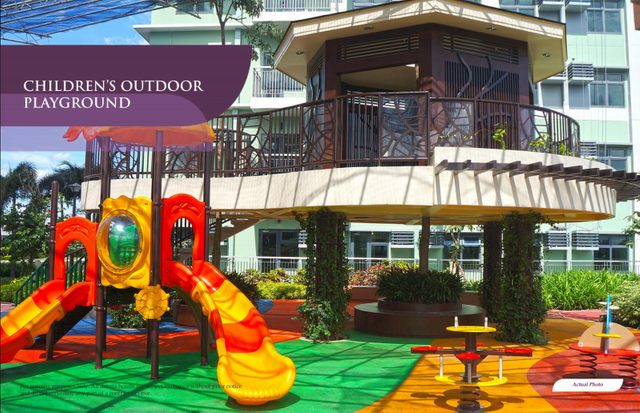 Now you know what happened to the famous Magnolia Ice Cream House. Hehe.
Make new and wonderful memories in The Magnolia Residences starting today while its last tower is still pre-selling.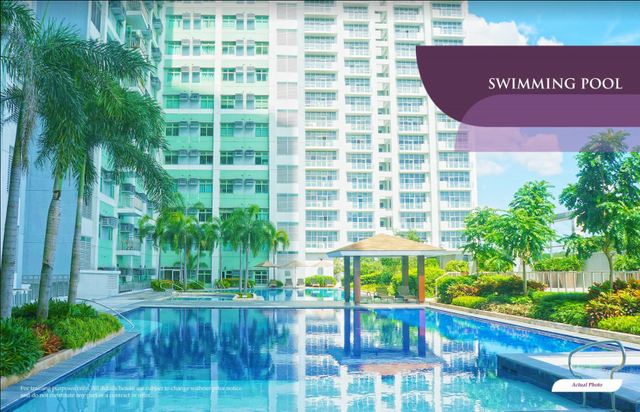 Why wait until Tower D is ready for occupancy before you contact me to own a unit here? If you invest to wait, your future self will thank you for it.
For inquiries, site trip appointments and the pleasure of ownership, feel free to get in touch with me.
Lucy Stephanie
Senior Property Specialist
Looking forward to assist you in making great memories in the Magnolia Town Center. 😉
Disclaimer: Condo details herein are subject to change without prior notice.
Originally posted on Steemit.
Related post:
How To Buy a Condominium Unit in the Philippines